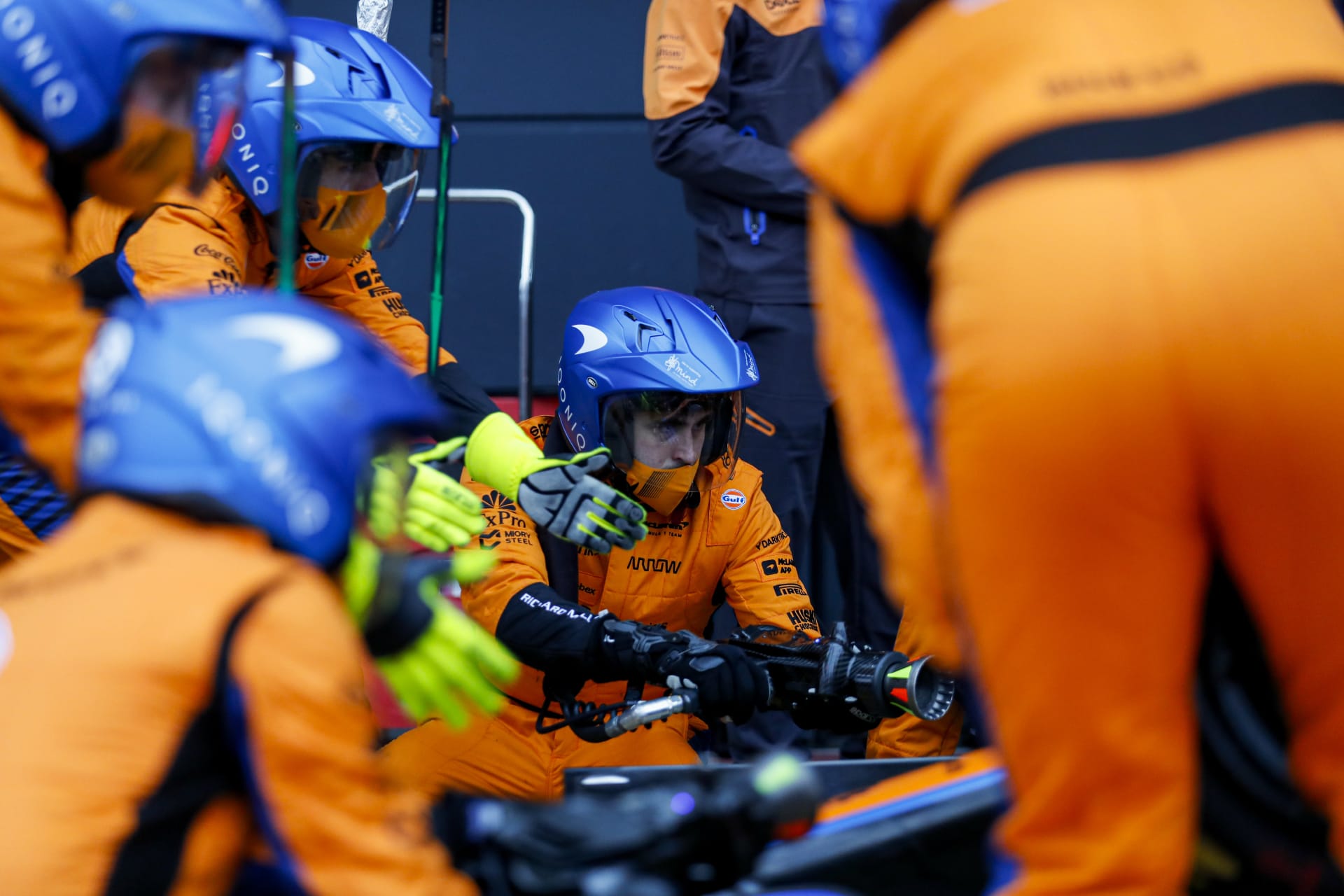 Senior HR Business Partner - F1 Technical
Woking

,

England

,

United Kingdom

People Team
Job description
At McLaren Racing, we believe only by chasing performance in everything we do can we give ourselves the best chance of success. Performance on track and in the factory. Performance for our people, our business and our partners. It's about more than winning. It's about hitting the highest standards, and then raising the bar again.
The Senior Manager, People Partner - F1 Technical will support the delivery of a progressive people agenda into the technical function of McLaren Racing. McLaren Racing has an exciting change agenda for its people and culture with the ambition to create an environment where winning becomes inevitable and for us to support a performance-led organisation. 
This is a pivotal role in supporting the development and delivery of a local people plan aligned to the overarching F1 people strategy set by the People Director, F1 that directly supports enhancing the performance and productivity of the technical departments and translates into on-track results.
Reporting to the People Director of F1, the Senior Manager, People Partner will be the first point of call for the F1 Leaders in the Engineering and Design, Concept and Performance, Race Team and McLaren Advanced Projects departments across the technical function and will operate at an operational level of performance led business partnering. As a commercial business-orientated HR practitioner, they will foster unshakeable relationships through strong understanding of the team's operations and challenges and delivering a no-nonsense, high-impact service, all contributing to the team's performance on track.
This role will have one direct report, a Senior Specialist People Advisor, no direct budgetary responsibility but must understand and work with the department leaders and Finance Business Partner to understand budgets and requirements to ensure you support in decision-making and tracking.
There will be a requirement to be flexible on working hours and to hot desk across all departments you support to ensure integrated people team support, presence is key for good working relationships and collaboration with the team. It is envisaged you would work Monday to Friday (4 days within technical departments office based and 1-day wfh, subject to business requirements)
KEY ACCOUNTABILITIES

Deliver the McLaren Racing People & Culture plan aligned to your functional area and high-level F1 Strategy
Feed into the ongoing development of the plan and technical strategy by working closely with the team stakeholders to identify the critical people priorities and feeding through
Respond and adapt to changing circumstances, contributing to the development of solutions to ensure they are fit for purpose within your functions
To develop a tailored people plan that draws down on the strategy, but includes further operational needs bespoke to the functional areas
To front up the delivery of the people strategy within the technical team, becoming the main point of contact for the Technical leaders and People Director for all strategic and operational people matters
Business Partnering at a Senior level
Building trust-based relationships with the senior leadership team, fostering close partnerships that get you 'inside the tent' and able to offer close quarter support on the engineering of our people
To take a mid to longer-term view of the business, anticipating future workforce demands before leaders even know they need something and proactively translating into solutions
To become a deep expert with a high level of technical understanding of the client group building credibility and enabling knowledge/insight based proactive recommendations to be made
Minimising involvement in low level, low value tactical matters, using all available resources across the People & Culture team to deal with these appropriately, or helping managers deal directly
Apply people analytics through data-driven conversations and initiatives to deliver against the people strategy
Ensuring a performance led mindset and culture is the at the forefront in all business partnering activities and approach
Operational HR Management
Support and oversight of ER issues ensuring managers are equipped to deal with them effectively and compliantly ensuring reliable and trusted employment law advice is given
Partner with the finance team to ensure a good understanding of local budgets
Ensure your business areas are effectively resourced in line with budgets and overall business plan
Support the annual salary and bonus review process
Proactively gauge employee engagement in functional areas and work with the broader People Team to provide solutions as required
Utilise relevant data to support people and business plan implementation, spot trends and assist with decision making
Organisational Design and Change Management
To work with the senior leaders and People Director to review the organisational design of the team to ensure they deliver performance but remain commercially focused, relevant, efficient, agile, and productive
Lead on the redesign of roles, teams or functions in line with identified needs using strong org design disciplines to maximise the effectiveness of structural changes
To apply best practice change management discipline to the delivery and implementation of changes minimising disruption and supporting any people impacted with dignity and respect
Considering organisational performance in the broadest sense of communication flows process effectiveness, interdependencies and capability to seek opportunities to deliver optimised business models
Workforce planning and Talent Management
Work with the Team in understanding their ambitions and plans. Use this insight to be inquisitive as to mid and long-term people requirements
In conjunction with the Talent Team, understand and help develop workforce plans that map out role and capability needs over time and required resource levels
Work with the Talent Team to build talent attraction strategies that consider short- and long-term needs, thinking creatively about how future needs can start to be addressed immediately (grads, apprentices, internal talent fast tracking)
Own the formal and informal talent and succession management processes for your function, making this a live and ongoing conversation, not a paper activity, that has tangible outputs by way of retention, adding performance, promotion and minimising risks
Effective management of Employee relations
Maintain strong employee relations across the division through the pragmatic engagement of our leaders to fulfil their legal obligations effectively
Use effective communications as a vehicle to maintain strong relations with employees, particularly where change is concerned
Actively engage with leaders to support development of a working environment that is conducive to safe practices and colleague welfare
Support development and delivery of an effective diversity and inclusion agenda with the Employee Experience & Talent Team that promotes a positive workplace that is broad and inclusive in its make-up
Promote a service mentality and partnership approach to developing strong and effective working relationships with key internal stakeholders to ensure their appropriate engagement and involvement
Confidently influence key stakeholders to gain buy-in and support to new ways of working, alternative solutions and key projects
Seamlessly act as the conduit between the Technical Leadership and People & Culture team to ensure successful implementation of initiatives which are fit for purpose and land well
Strong and professional communication across multiple stakeholder groups and channels with the ability to present and deliver compelling messages
Work with internal comms to support the development and execution of appropriate communications campaigns to engage with audiences on the employee experience offer to ensure full engagement and understanding
Line management and leadership of your Senior Specialist People Advisor. Ensure their development and focus of their delivery is aligned and adds value to the performance of the team
Work with a dotted line admin assistant, ensuring clear deliverables are in place to support the delivery of the people plan and their own personal development areas
Job requirements
ESSENTIAL KNOWLEDGE

Experience of working within an engineering environment and/or has engineering qualifications
Experience of senior business partnering and coaching in a performance led organisation with client groups to a senior level across multiple functions to ensure flexibility in approach
Wide ranging knowledge of value creating generalist human resources at senior leader level. Candidates with a high level of organisation design, talent and succession planning and stakeholder management experience would be desirable
Contributing to People strategy development, translation into pragmatic delivery plans and implementation through to conclusion
Ability to deliver high impact services in a fast paced and fluid working environment, bringing clarity and structure where appropriate
Strong communicator, able to influence senior leaders, with a "how to'" not "no" mentality
Change management experience and being comfortable with being at the forefront of delivery with support from the People Director where required
Ability to flex delivery from understanding delivery at a strategic level to operational and understanding the need to work "in the grey" where performance solutions need to be found
Problem solving – able to operate effectively with ambiguity, adopting an inquisitive style that understands the 'why' to determine the 'how' and applies extensive knowledge to develop creative solutions and workarounds for the client
Results – someone who is performance driven, who comes with an outstanding work ethic and expects the best from him or herself and people around them
Credible - Considered credible and has gravitas, acting as a role model for the McLaren values
Challenges – challenges others to strive for more, both in innovation and meeting stakeholder needs
Ownership - demonstrates behaviours that support a high-performance culture within and across teams
Collaboration – Engages in partnerships, networks and alliances to support long term success and engages in partnerships for decision making to support the best interests of the business
Driven – a track record of getting things done
Role Model – Is a role model and champions best practice in diversity and inclusion
What can McLaren offer?
We constantly strive to be better tomorrow than we are today. Our ambition is to be the most pioneering and exhilarating racing team in the world, and our collective task is to set the standards for high performance in sport. We show up every day with energy and enthusiasm, ready to play our part.
We encourage and support diversity, equity and inclusion. We will actively promote a culture that values difference and eliminates discrimination in our workplace.
McLaren Racing is based at the iconic McLaren Technology Centre (MTC) near Woking. Our state of the art, sustainable campus offers many facilities including a gym, swimming pool, restaurant and indoor and outdoor break-out areas, as well as direct access to park and common land. The MTC is connected to Woking mainline station via regular shuttle buses, from which London Waterloo is a 30 minute train ride.
Hybrid working patterns give you options to balance your home life and outside interests with your work. We offer a comprehensive package of benefits including private healthcare, car schemes, life insurance and generous pension contributions.